Often used to mark out property boundaries, section out portions of a garden, or block a direct line of sight from the road into the windows of a home, trimming once or twice a year is essential to keep your hedge healthy. Thankfully, hedge maintenance is a simple process, especially when you have a high-quality Stihl hedge trimmer at your disposal! 
Most hedges are grown from shrubs that typically have two growth or vegetation phases per year, once in spring and another at the height of summer. It is generally considered best practice to wait for these periods of growth to slow, as this means the shape you impart on the hedges is likely to last for longer, rather than growing out quickly. 
This means that the optimal trimming times are April - May, and again in September - October. However, the spring trimming time coincides with the nesting season for native species of birds, so to avoid disturbing the nesting season, many gardeners opt for a trim in early March or even late February.
Please note that the trimming optimal trimming times will vary depending on the type of hedge you have, with some needing more frequent trimming than others. You should also bear in mind that in order to keep hedges neat, and precisely control the growth, frequent trimming is recommended. 
For example, in topiary, the horticultural practice of training perennial plants by clipping and trimming leaves and twigs to develop and maintain clearly defined shapes, requires regular trimming.
Stihl Hedge Trimmers - The Options
So, now that we know all the best times to trim hedges, let's take a look at some of the best options for doing so, our range of Stihl hedge trimmers!
There really is something for everyone in this range! Whether you are looking for a petrol hedge trimmer or an electric model, with Stihl hedge trimmers and long reach hedge trimmers, working in gardens and parks just got much easier. They have been specifically designed to enable the user to cut overgrown hedges and thickets, and there are even long-reach models available for taller hedges. 
If you're looking for the best and most comfortable cutting performance, it has to be Stihl!
THE POPULAR MODELS
HSA 26 Shrub Shears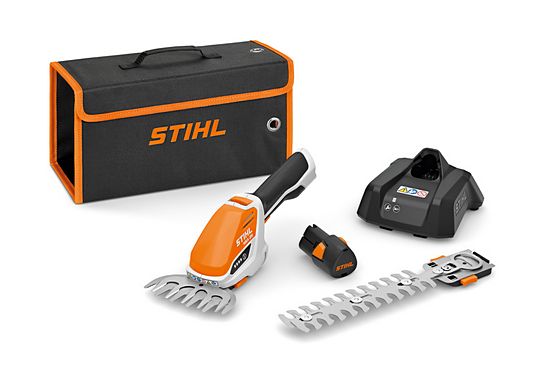 These battery-powered, cordless shrub shears come boasting a telescopic shaft which allows you to use them while standing and walking for complete convenience. This long-reach shrub shear comes with smooth running wheels and it is ideal for use by homeowners. 
HSA 45 Compact Cordless Battery Hedge Trimmer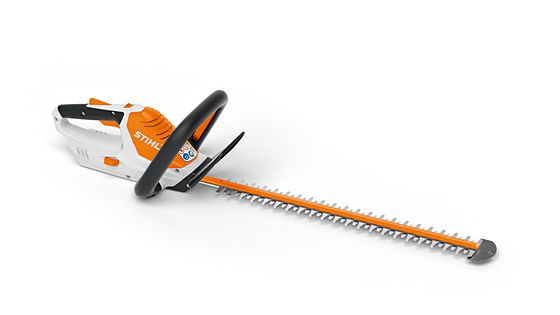 Boasting double-sided trimming blades with integrated cut protection and a tip protector to help prevent wear, this compact cordless battery hedge trimmer from Stihl is a great option. It is incredibly lightweight, making it easy to handle, while it delivers exceptional cutting performance!
HSA 56 Battery Hedge Trimmer 
The bigger brother of the HSA 45, the HSA 56 battery hedge trimmer comes with impressive cutting performance that will make light work of the trimming jobs around any garden. Again this model is lightweight and easy to use, it has been designed with the user in mind, as it is both comfortable and quiet. 
And as a part of the AK range, it has the added benefit of being able to be used alongside other machines in the AK battery range such as lawnmowers, strimmers, blowers, chainsaws and more!
HSA 94 T Battery Hedge Trimmer 

Perfect for professionals! This high-performance model boasts a constant stroke rate even when performing heavy pruning. The high-speed, double-sided cutting blade ensures precise cuts and up to 550 minutes of run time with the recommended AR 2000 L battery.
A choice of blade lengths is also available. 
THE BEST STIHL PETROL HEDGE TRIMMER
HS 45 petrol hedge trimmer for home use

The best petrol hedge trimmer for homeowners is the Stihl HS 45 petrol hedge trimmer. This compact model is the perfect tool for light maintenance in the garden, with the outstanding performance provided by a range of intuitive features, such as: 
An anti-vibration system

Long-life air filter

Integrated cut protection blades

2-MIX engine technology
Stihl HS 82 RC-E petrol hedge trimmer for larger gardens & professional use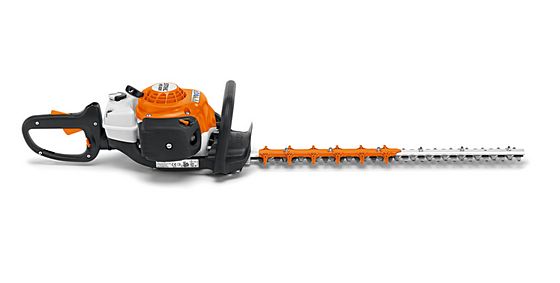 The best petrol hedge trimmer for professionals is the Stihl HS 82 RC-E petrol hedge trimmer. Boasting a lower blade speed, this heavy-duty model is powerful and capable of coping with a broad range of uses. Key features include: 
A 2-stroke, MIX engine

The Stihl anti-vibration system

A rotating, multifunctional handle

Reduced weight for increased efficiency
THE BEST STIHL LONG-REACH HEDGE TRIMMER
There is also a range of long-reach hedge trimmers, both battery and petrol-powered, with models that are aimed at homeowners and professionals alike. 
BATTERY POWERED FOR HOMEOWNERS
The Stihl HLA 56 Long-Reach Battery Hedge Trimmer 
Part of the AK range for homeowners, this lightweight and well-balanced model provides precise cutting, it is a great tool to add to your gardening arsenal. The angle of the head can also be adjusted, meaning all the hard-to-reach areas of your garden will be within your reach!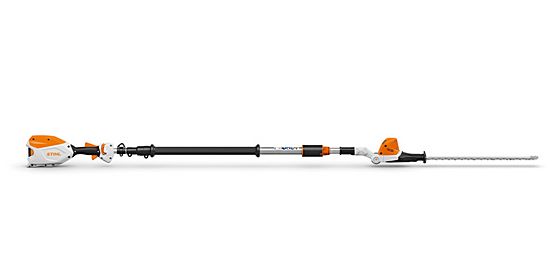 BATTERY POWERED FOR PROFESSIONALS
The Stihl HLA 86 Telescopic Long-Reach Battery Hedge Trimmer 
The perfect tool for the maintenance of tall shrubs, hedges and ground cover. Reliably high performance comes from the robust EC motor with variable speeds, while the telescopic shaft can be easily adjusted without the use of tools, for efficient and effective use at all times!
LONG-REACH PETROL HEDGE TRIMMERS
There are also two fantastic long-reach hedge trimmers powered by petrol!
First, we have the Stihl HL 92 C-E Long Reach Petrol Hedge Trimmer, which is ideal for property maintenance and landscaping. Light and well-balanced, this tool is perfect for tall hedges and working close to the ground. 
The last item we are looking at in our guide is the Stihl HL 94 C-E Long Reach Petrol Hedge Trimmer. The professional version of the 94 C-E, this model is perfect for use on low shrubs and bushes, as well as high hedges. 
The 2-MIX engine features ECOSPEED, allowing precise speed control when working in noise-sensitive areas for long periods, as well as an adjustable cutter bar.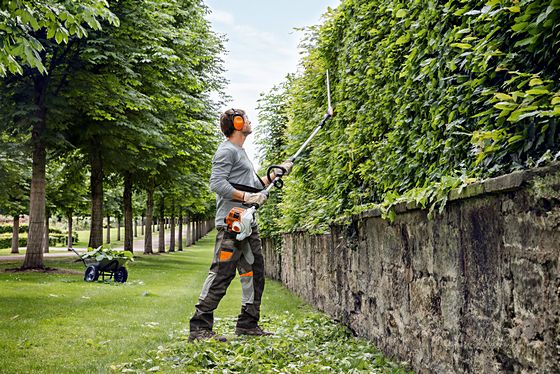 FAQS
Are Stihl hedge trimmers any good?
Stihl has a reputation for making hedge trimmers that are of exceptional quality. There are models that are designed for professionals, right through to models designed for use by at-home gardeners, so whatever your need, there should be a Stihl hedge trimmer for you.
How to adjust Stihl hedge trimmer blades?
You should not generally need to adjust the position of the blades on your Stihl hedge trimmer. However, if the blades have suffered from wear and tear, then once you have sharpened them, you may need to reset the blade clearance, this can be done with a blade position adjustment kit. 
How to service a Stihl hedge trimmer?
Whether your Stihl hedge trimmer is electric or petrol powered, in order to keep it operating at peak performance you will need to ensure that regular services are carried out. While it is possible for this to be done at home, we would always recommend getting a professional to service your Stihl hedge trimmer for you. 
How to sharpen Stihl hedge trimmer blades?
If you are noticing that your Stihl hedge trimmer is leaving behind an uneven cut or a frayed edge, then this is an indication that you will need to sharpen your blades. To do this, you will need to clean the teeth on the blades before sharpening them, moistening them with a whetstone, and then work on the hedge trimmer blades using a flat file, but remember only to sharpen the cutting edge. Next, you need to remove any burrs using a whetstone, and finally, a little TLC! You can add STIHL resin solvent to ensure that the unit continues to operate properly for a long time. We know that not everyone is comfortable sharpening blades at home, so alternatively, you can bring your unit to Balmers GM, and we would be happy to sharpen the blades for you. 
If you have any questions about anything you have read in this article, or for more information about our Stihl hedge trimmers, please do not hesitate to contact us. One of our knowledgeable team will be happy to help.